Replacement: A 3D printing machine displays a miniature bust of Abraham Lincoln while the other displays a resin head. The video played at the 3D Printing Festival at @america shows the making of prosthetic limbs using the additive manufacturing technology. (JP/Tertiani ZB Simanjuntak)
At a glimpse, the objects on the display tables look like those cheap plastic wares that come in plain primary colors. But a closer look shows how fine their surface texture is with no factory residue clinging to it at all, as is commonly found in those low-priced toy assembly kits. These devices can produce a clean, solid mold of anything one can think of.
Toy robots, smartphone cases and stands with a charger, a miniature castle with tall conical turrets, ceramic figurines, a bust of Abraham Lincoln, a decorative cup to serve candy or to keep those easily missing small things and even a tube roller someone can wind to squeeze out the last ounce of their toothpaste tube.
One feature these objects share in common is that they were made using desktop 3D printing machines exhibited at the 3D Printing Festival 2017 at the hall of @america Pacific Place, South Jakarta, on Feb. 18.
Jointly organized by software maker Autodesk and Makernesia, the Indonesian community of the globally burgeoning Do-It-Yourself Maker Movement, the festival aimed at familiarizing the public with the technology and how to utilize it for either industrial purposes or personal consumption.
Read also: Bill Gates suggests 'robot tax' to compensate for human job losses
"The technology itself has existed since the early 1980s, but due to patent clauses it has only been widely used since 2009 through open source and entered Indonesia a couple of years ago," said Makernesia CTO Zerfani Yulias, the founder of Indonesia Arduino Community.
"Not many Indonesians are familiar with the technology although several creative businesses and hobbyists have applied it. Some of them have even printed the parts to build 3D printing machines."
Makernesia CEO Adiatmo Rahardi added many universities and high schools already have the printing machines but they are yet to be utilized to their optimum function and economy value.
"It's sad to see that the printing machines are left dusty in the lab. Starting this year, Makernesia is taking an active role to familiarize students with the technology," he added.
Do-it-yourself
Students can also enjoy a free software subscription from Autodesk, said Togar Sianipar, the company's major account manager for Indonesia.
Currently, he said, the company offered a cloud-based platform named Autodesk Fusion 360 to help designers creating 3D images for print. A one-year subscription will cost US$300 with a free trial period that lasts in 30 days, but verified students can use the platform for free.
"It's available on Windows and Mac OS, even on a smartphone. It works in real time, so any changes made by the designers would be immediately received by the machine operator."
Read also: The Zuckerberg manifesto: How he plans to debug the world
There were two general types of printing machines exhibited — ones with no casing and the shiny, windowed machines. The size of the machines is about that of a coffee maker and they can handle a variety of materials, such as plastic, ceramics, sandstone and metal.
Printer 3D Indonesia, among the first distributors in Indonesia, brought the different types of UP BOX. The windowed variety has a new safety feature that reduces airborne particulates, providing a safe printing environment for students and teachers in the classroom.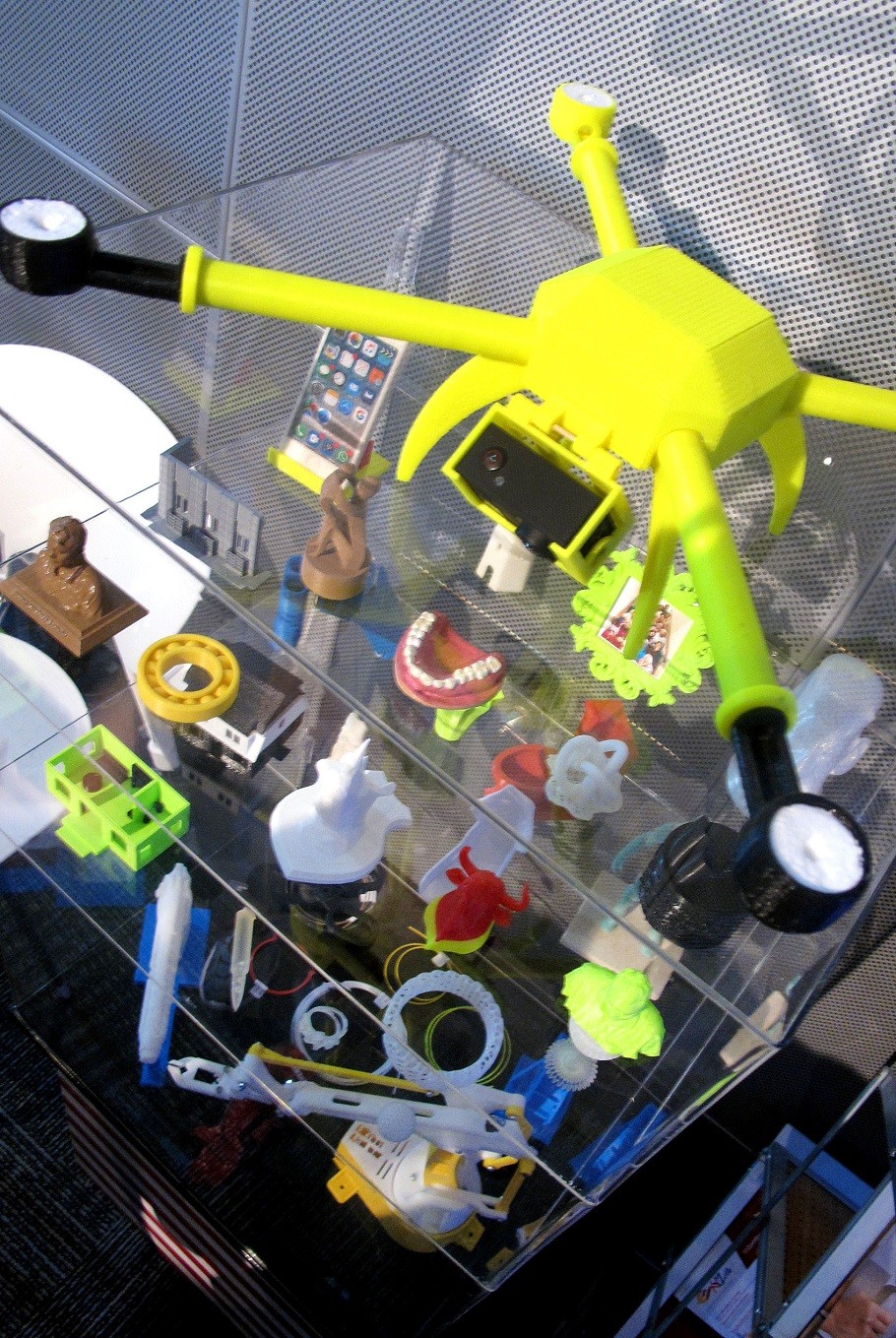 Colorful treat: The robots, figurines and trinkets are exhibited at the festival in Jakarta. Additive manufacturing produces prototypes for industry and is also widely used by small-scale industries.(JP/Tertiani ZB Simanjuntak)
"But hobbyists prefer the non-casing one because they can follow the printing process," said Gunadi, a technician of Data Print. The company offered the assembly kits of two types of 3D printing machines which prices starting from Rp 5 million ($375).
Online store Eliketronics brought Optimus family of 3D printers — Mars, Neptune and Venus — each with particular specification and price tags, all with accurate calibration as well as the handheld 3D Pen which prices ranges from Rp 550,000 to Rp 750,000.
"The reason the technology is not yet popular in Indonesia is because not many people have the knowledge nor the skill to create 3D models," said Eliketronics CEO Brilly Nurhalim, a speaker in a talk show about the utilization of 3D printing technology held during the festival. "Education is key and we have started to introduce 3D Pen to elementary school students so they can experience seeing their imagination pop up before their eyes."
Industrial revolution
In industrial parlance, the 3D printing technology is not only a revolution for industry as it also has the ability to change lives.
SugaCube founder Harry Liong said he used 75 cameras to capture one object at the same second to create its 3D image using 3D Artec scanner and print it to precision.
Currently, the service his company offered mainly used to create figurines for wedding cake tops and 3D images for furniture store. "Customers would like to see how the furniture fit the room before buying," said Harry.
SugaCube is also working together with Cipto Mangunkusumo General Hospital to produce prosthetic ears for microtia patients.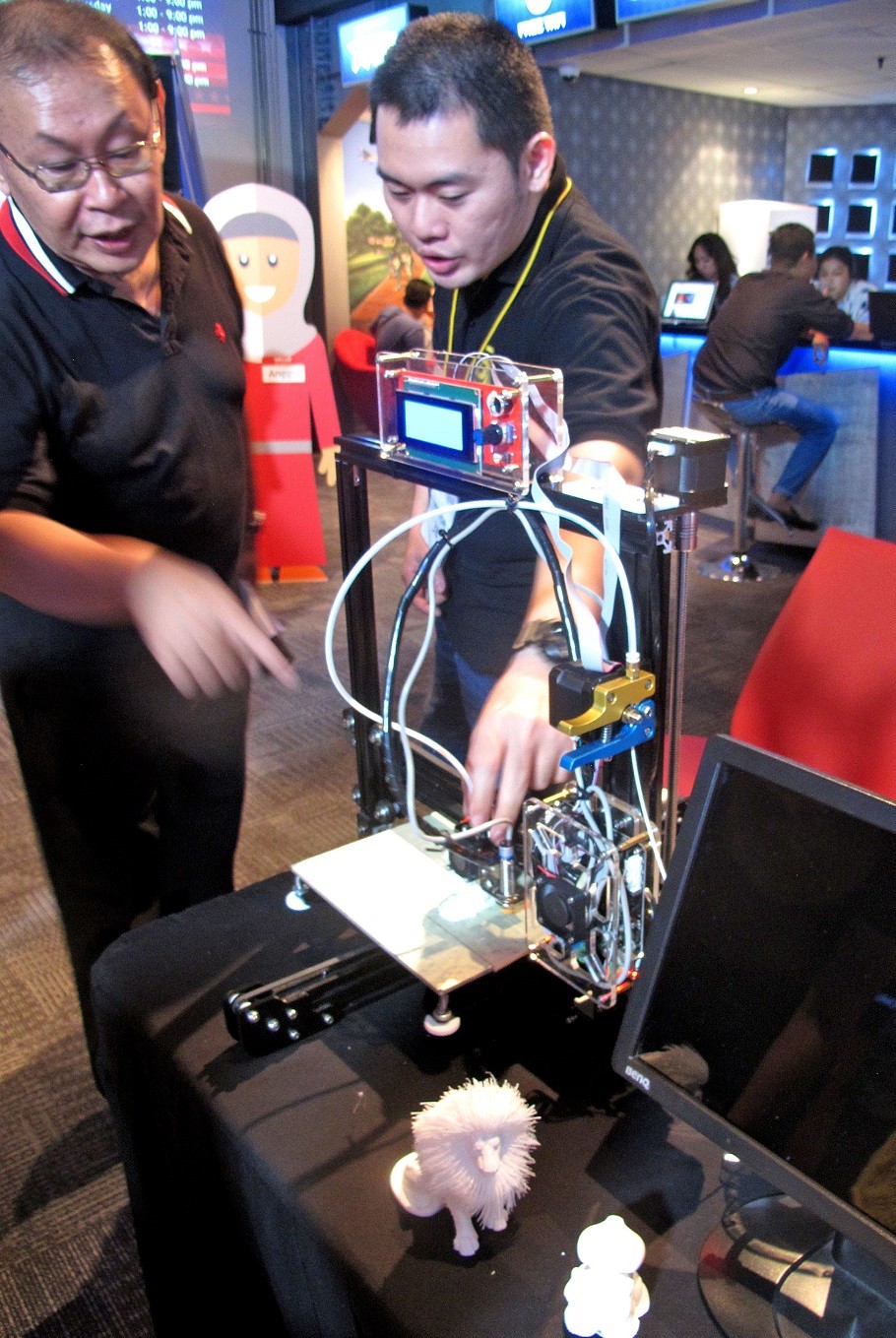 Down to the last detail: A staff member at the booth of Data Print explains about the company's Tarantula and Trinus printers. The portable, self-assembled, printers can produce a lion toy with a frisky mane.(JP/Tertiani ZB Simanjuntak)
"We have tried using varied materials and now starting to improve the design using silicon material for flexibility," said Harry.
He acknowledged the technology had opened up limitless possibilities for customization.
"I can imagine that in five years every household will have a printer in their house or at least the skill to make a 3D model. So if a temple of your eyeglasses is broken, you can make the 3D model and print it or email the specs to the 3D print shops," he says.
"It's practical and it works well with how people nowadays want everything customized and personalized."